The Perfect Public Speaking Venue
When preparing for a public speaking engagement, presenters are naturally preoccupied with the content of their speech. If you regularly organise speaking events, have you ever thought about the impact that the venue you're speaking in can have? The message is important, but so is the setting in which you're delivering it in. When you have control over certain variables like lighting, temperature, décor and sound, you can find ways to complement the tone and message of your speech and facilitate the right atmosphere.
When you're organising your own bespoke event, there are plenty of factors to keep in mind and consider when you're choosing a venue and considering your budget.
Creating the Right Atmosphere
Think about the type of atmosphere you want to create for your public speaking event – you've got the potential to guide the way your audience feels with your choices. For example, choosing an innovative, exciting venue can communicate that your brand identity is forward-thinking and imaginative.
For formal, lecture-style events a smaller space can work well as your voice will naturally amplify and it's conducive to a lecture-type environment, but a larger space can be a safer option for last minute arrivals. Softer lighting on a speaker means that attendees can still see slides and projectors properly and aren't distracted.
With a relaxed event having less space between the speaker and the audience is more natural. A small space can feel more intimate, but a bigger space can turn into an ideal networking area too. A more unusual, obscure type of event space can be a great conversation starter and adds a new creative dimension to your speaking conference – such as At Bristol Science Centre. Make sure that there's a lot of lighting on a speaker, so they can be as visible and exposed to an audience they're trying to connect with.
Equipment and Sound-systems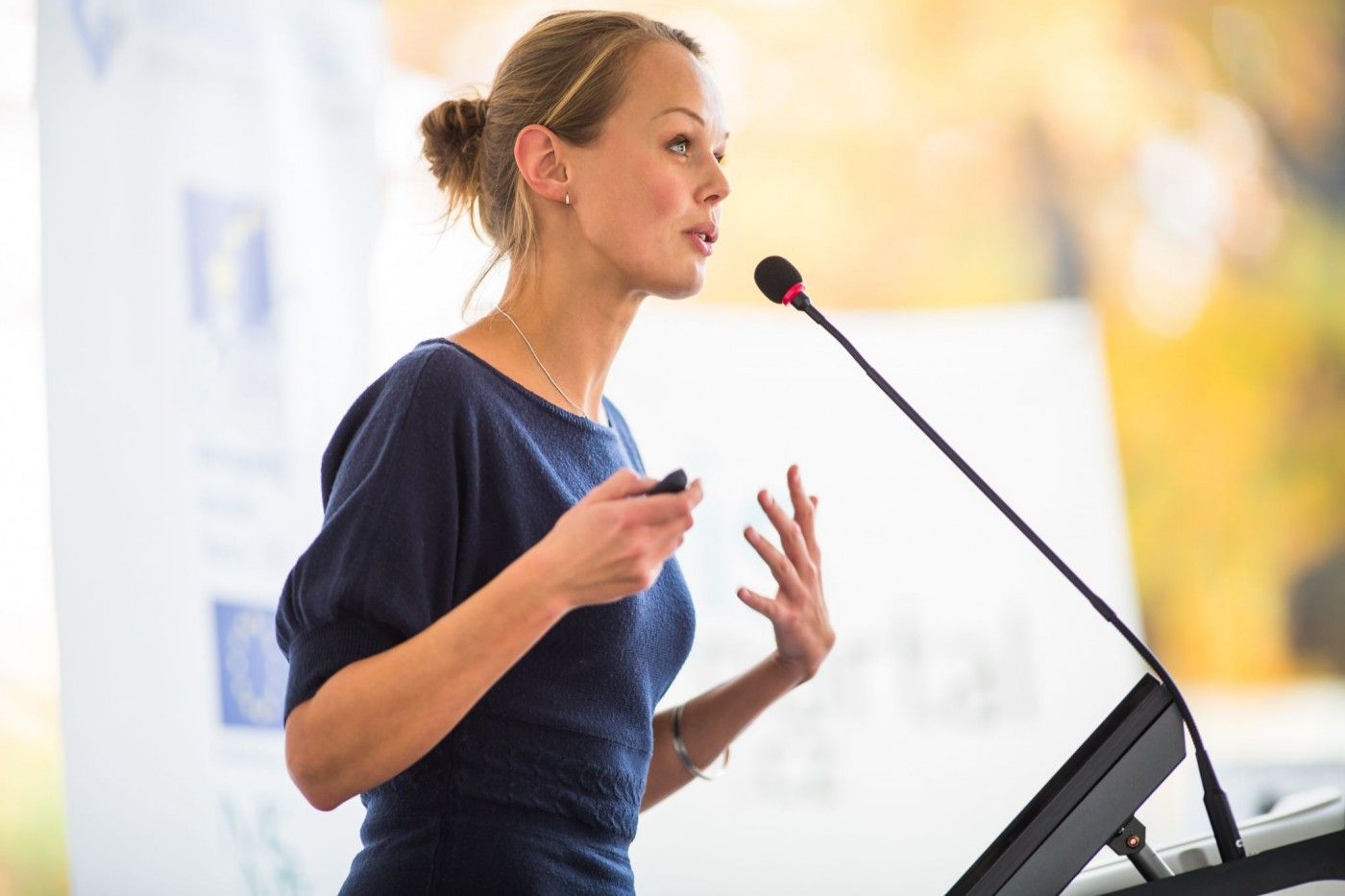 Research-style events will usually need AV equipment, projectors, and lecterns so that speakers can communicate complex information and display data and statistics. Make sure the sound carries and if the speaker wants to move around the stage then headsets are more appropriate.
For laid-back, networking events, it's more important that the sound system is crisp and carries well. If you want people to laugh and hang on to conversational-style speaking then being able to clearly hear a speaker is crucial – as opposed to more formal, seminar events where the overall message is stronger and won't get lost.
Seating Arrangements
If it's a seminar-style event that requires a more formal tone then you're likely to need a seating arrangement that allows people to record notes, flick through collaterals and hang onto every word – perhaps a more cabaret style sit down arrangement or seating with small side-tables attached. A speaker can still use their body language and slides to make their talk more animated. If the subject matter is more formal then having limited distractions is important. The National Museum in Cardiff is the perfect venue for a classic, thoughtful speaking event.
A more relaxed, humorous or creative talk tends not to need as much equipment, on-stage furniture or even a stage, because allowing the audience to see your body language and adopt a more conversational style is effective. A theatre style or semi-circle seating arrangement gets people sitting closer together and feeling togetherness. Allowing your guests to stand up for shorter talks can work well too and facilitates a more personal approach – when you speaker isn't raised on a stage it can seem less dictatorial too.
Whatever your requirements are for a public speaking event, VenuElior can advise you on the best and most conducive event spaces to make your event a success. Get in touch with us today.