When we met… Rose Hunt, St Albans Cathedral
St Albans Cathedral has been standing since the 11th Century and offers a truly unique setting for special events and weddings. Venuelior sat down with the venues' chef de partie to find out more about how the historical architecture and enduring heritage inspires its traditional menus.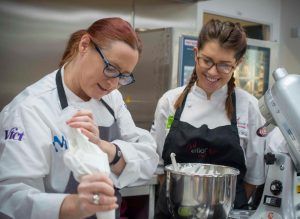 Are there different kinds of menu options available at St Albans for each event type e.g. wedding breakfasts, meetings and conferences, and if so, how do you differentiate these?
We have various different menus to suit each event criteria and can cater to any taste and most requests received. Our conference menus are designed for on the go meetings and simplicity, whereas our weddings menus are designed with larger numbers taken into consideration.
Do you have any particular style of food or special menu items that you specialize in?
We do specialise in good home cooked British dishes, however, we have a lot of multicultural events that take place which allows us to experiment with different dishes from around the world.
What are your favourite types of events to cater for, and why?
My favourite events to cater for are personal celebrations such as birthdays and anniversaries. You can be really personable and create a bespoke menu to suit their taste and requirements, and I love being involved in guest's special celebrations.
How do you reflect the beautiful architecture and esteemed history of the cathedral in the menus?
The cathedral is a bundle of history and provides us with a lot of inspiration for our menus. St Albans is the birthplace of the hot cross bun, and we stay faithful to the Easter delicacy's 14th Century recipe when making our infamous 'Alban Buns'.
What are your most popular menu requests?
Chocolate desserts are of course always a keen favourite. One of our most recent requests was Norfolk Crab sandwiches for a buffet – using fresh, local ingredients is an integral part of our menu offerings.
Is the menu at St Albans more traditional, or is it developed as trends emerge, such as veganism, or street food?
Our menus are mostly traditional but we do have many outside events in the summer where we can offer street food style menus and get really creative.
For weddings menus, do you work with the bride and groom to develop a personalized menu to meet their needs, and if so, how?
Yes, the food element of a wedding is not just important taste-wise but makes up a significant cost of any wedding, especially when feeding 100+ guests. We work with the bride and groom to ensure the finalized menu will accommodate the couple and their guests to the best of our abilities.
How has your previous experience prepared you for your role at St Albans?
This was my first job and I have now been here for almost 9 years, which says a lot about the team and what we offer here.
Finally, we hear you're a star baker, could you tell us a little bit more about your cakes?
My passion for baking comes from my mum who was also a baker. We have recently created a Mad Hatters cake display in our café which has given me the opportunity to bake some amazingly colourful cakes!