Christmas party ideas all your employees can enjoy
The work Christmas party is often the highlight of the work calendar and gives your employees the perfect, tinsel-inspired way to let their hair down, get to know each other and indulge in some Christmas festivities.
You have all worked super hard, so your company deserves a bit more than warm wine in the office and a tired, flashing Christmas tree in the corner. The good news is that there are plenty of Christmas party ideas that you can choose to suit your workforce and their mix of personalities.
So, how can you plan a Christmas party that'll keep all of your employees entertained?
Involve your employees in the Christmas party planning
Why not start by asking your employees to get involved with your event organising? They are likely to have a good grasp of what their colleagues would enjoy. You can also get your team to vote on their favourite party options and venues to make sure you're on the right track and include their input. For example, a themed event might be completely out of the question with your team!
Your employees might fancy a traditional sit-down meal in a quiet setting or a full-blown formal event. Or they could be keen to try something completely different in an unusual environment, such as the beautiful 5th View bar in Waterstones book store in Piccadilly, London with its delicious Christmas lunch and dinner choices. Involving your employees is about hearing their voices and catering towards their interests.
For groups preferring something low-key
Lots of our venues have the capacity for performances, bands, discos and games, so you can get really creative with your Christmas party. No-one likes forced fun though, so make sure that the event's flexible and the people that just want to chat quietly in the corner can do so and won't be forced to do karaoke in front of everyone! You can discuss all your ideas with our event organisers at your chosen venue.
Having something for people to watch or get involved in can make it easier for people to chat and get to know each other. A main centre-point of the evening can give your party some structure and keep everyone amused.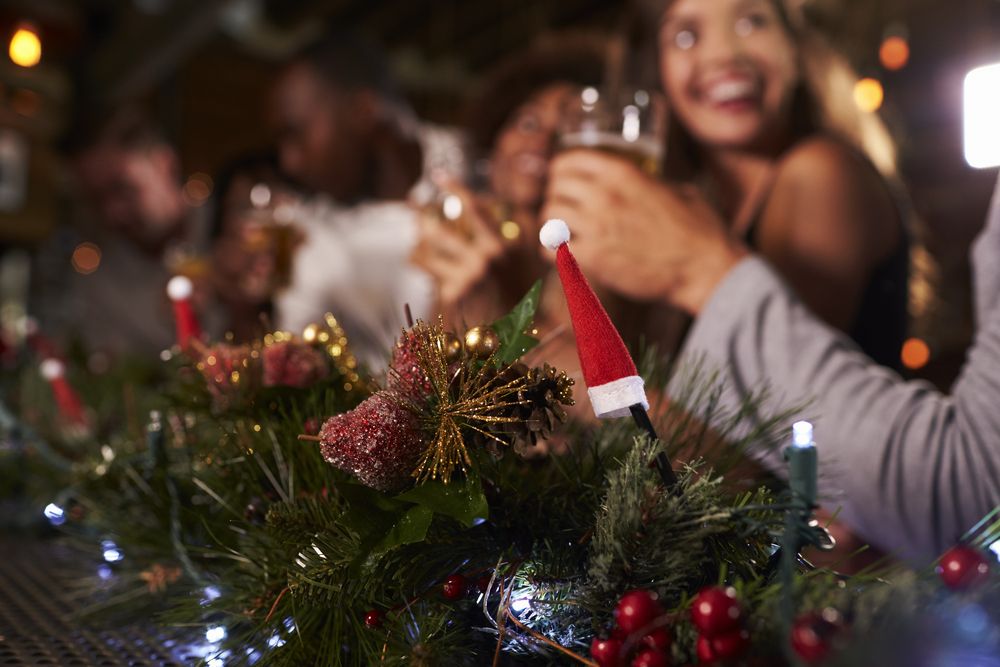 For those who love a great party theme
Deciding on a theme for your Christmas party is a great way to break the ice between your employees. For the cynics and Scrooges amongst your team – themed events might not be their cup of tea, but if you make it a way to celebrate their individuality then it can work well. Taking your event outside of the office is the best way to do this and relax everyone too.
You can decide to theme the venue and it can be as simple or as elaborate as you like. A tailored package we put together based on popular demand is this dinner followed by a disco evening with your favourite music from the last few decades at Emirates Riverside. Feeling inspired but have some more specific ideas? All we need to know are your requirements.
For non-drinkers and employees with dietary requirements
Not everyone wants to wake up with a hangover the day after your Christmas event and for the non-drinkers in your team – creating an event that's inclusive of everyone and their lifestyle is important. One way of doing this is to facilitate a Christmas party that doesn't put a massive focus on drinking alcohol – by all means, the people that want to do that can – but drinking games and heavy drinking won't be ideal for everyone. If alcohol is available then have some 'party host tips' to safeguard your employees.
Make alcohol less of an issue by having a lunchtime or day event and getting some delicious mocktails on the go and a variety of food options to suit everyone's requirements.
Successfully host a work Christmas party with VenuElior and we'll help you to put together a Christmas party that's fun, festive and comfortable for all of your employees. To save you time on planning, we even have a variety of pre-planned Christmas party packages to choose from all over the country. Just let us know what your requirements are and our event planners will make it come true. All you need to do is turn up!