Saying 'I do' at St Fagans – A Case Study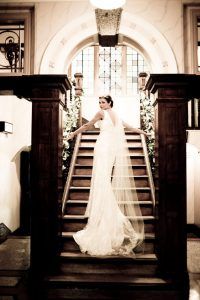 Laura and Martin recently got married at the picturesque St Fagans National History Museum, just outside Cardiff.   With its elegant formal gardens, woodland walks and historic buildings, the Museum is truly one of the most romantic and unique wedding settings in Wales.
When choosing their wedding venue, Laura and Martin didn't want a typical hotel wedding so instead they started looking for venues with more character. Laura had visited St Fagans as a child, and the Oakdale Institute onsite was the perfect venue for their vintage themed wedding.  They booked the wedding for exactly one year after Martin proposed.  Laura told us "I couldn't think of a better way to spend my wedding day than walking through the stunning grounds of St Fagans."
With a little help from her family and friends, Laura kept herself busy with wedding DIY projects, in keeping with the desired rustic feel for the day and St Fagans' vintage feel  She made everything from the invitations to the wedding favours and as a team, Laura and Martin prepared the Order of Service together.
On the day of the wedding, the Heavens opened and Laura's walk to the church was accompanied by a host of umbrellas. Needless to say, this didn't spoil the day, and by the time the ceremony had ended, the sun was glowing across the grounds of St Fagans allowing Laura, Martin and guests to experience the landscape gardens in all their glory, just as Laura had hoped. The photographer, Leah Millinship, captured every last detail of the event.
The reception took place at the Oakdale institute, a truly authentic piece of Welsh history, and ideal location for a ceremony.  The wedding meal was prepared and served using locally sourced ingredients. Elior worked closely with Laura and Martin to develop a menu.  They decided on a starter of goat's cheese, baby leek and crispy bacon salad, followed by roasted chicken breast filled with Pont Gar cheese, wrapped in Carmarthen ham on a bed of creamy mash.
From all at VenuElior, we wish Laura and Martin a very long and happy life together.