What canapes work best for standing events?
Standing events are popular for plenty of reasons, here are just a few of the many benefits:
• You can fit more people into the same room
• People appear more approachable while standing
• Your guests' networking reach is increased as nobody is stuck at their designated table
Most commonly, standing events tend to be organised for occasions such as corporate events, product launches, exhibitions and receptions. This type of event setting presents one networking opportunity after the other.
The presence of food at an event like this can facilitate your guests' ability to ease into conversations with others, especially strangers. Aside from the weather, there is no better conversation starter than a remarkable flavour.
With so many delicious canape options out there, our chefs at Elior need to be selective and think strategically about catering on a case-by-case basis. Choosing inconvenient canapes can get in the way of making the event a beneficial and memorable experience for your guests. We always recommend opting for 'finger food' that will keep the crowds satisfied without compromising on their energy levels and/or their ability to display gravitas in important surroundings.
Canapes for such occasions should meet the following criteria:
1) Be non-messy and easy to eat
2) Easy to chew
3) Unlikely to get stuck in one's teeth
4) Able to keep your breath fresh
5) Easy to digest
"The worst is going to a business event where the canape is too big for me to eat in one go without a plate or napkin. It gets messy very quickly. Not exactly the best look in a situation in which you are required to look cool, calm and collected in front of your peers." – Andrew North
Our mantra here is to "keep it simple". We suggest dishes similar to:
1) Stilton and grape bites, as seen on Good Housekeeping
The simplest of all crowd pleasers because all that is needed are two ingredients: Stilton and grapes. Especially pleasing for the cheese lovers among your guests.
2) Macadamia nuts with black olives, found on Great British Chefs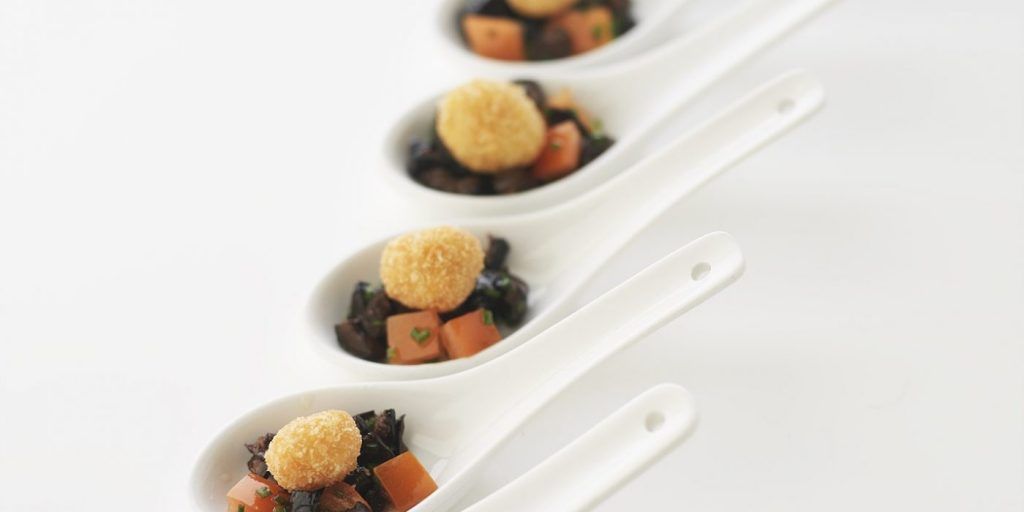 Image via Great British Chefs
Nibbles on a spoon? It's the unique mix of flavours that does its unusual, yet convenient, presentation justice.
3) Smoked salmon cheese wheels from Good to Know
These delicious smoked salmon and cream cheese rolls with dill are easy to chew and quick to eat – perfect for your corporate standing events.
4) Beef and Mozzarella meatballs via BBC Good Food
Meatballs are the most convenient option for meat lovers at a standing event. Unlike many other meaty options, a mess is unlikely!
5) Strawberry pastry bites with mascarpone via Well floured
After your guests finished enjoying a delicious selection of savoury canapes, we recommend following up with a light but tasty and non-messy dessert like these strawberry and mascarpone bites.
Due to a high likelihood of dietary requirements by various guests, we recommend being versatile in your canape choices.
Did these recipes inspire you to book your next standing event? Our most popular venues for such occasions are currently Waterstones in Piccadilly and Lloyd's in the City. Have a browse through our venue hiring options and feel free to get in touch with your requirements; we will help you find the perfect event space and catering options for you and your guests.